This was one of those "hmm what do I have in the fridge today?" kind of recipes. I had some veal stew meat that I wanted to make but felt like trying something else besides my usual curry-based stew.
So I turned to this recipe from a French blog that let me go for a different flavor profile than usual, which I then felt free to tinker with based on what I had on hand. Since it was not very long to cook, I used my trusty enameled cast-iron pot instead of the slow cooker.
The results? Well let's just say I've got requests to make it again right away!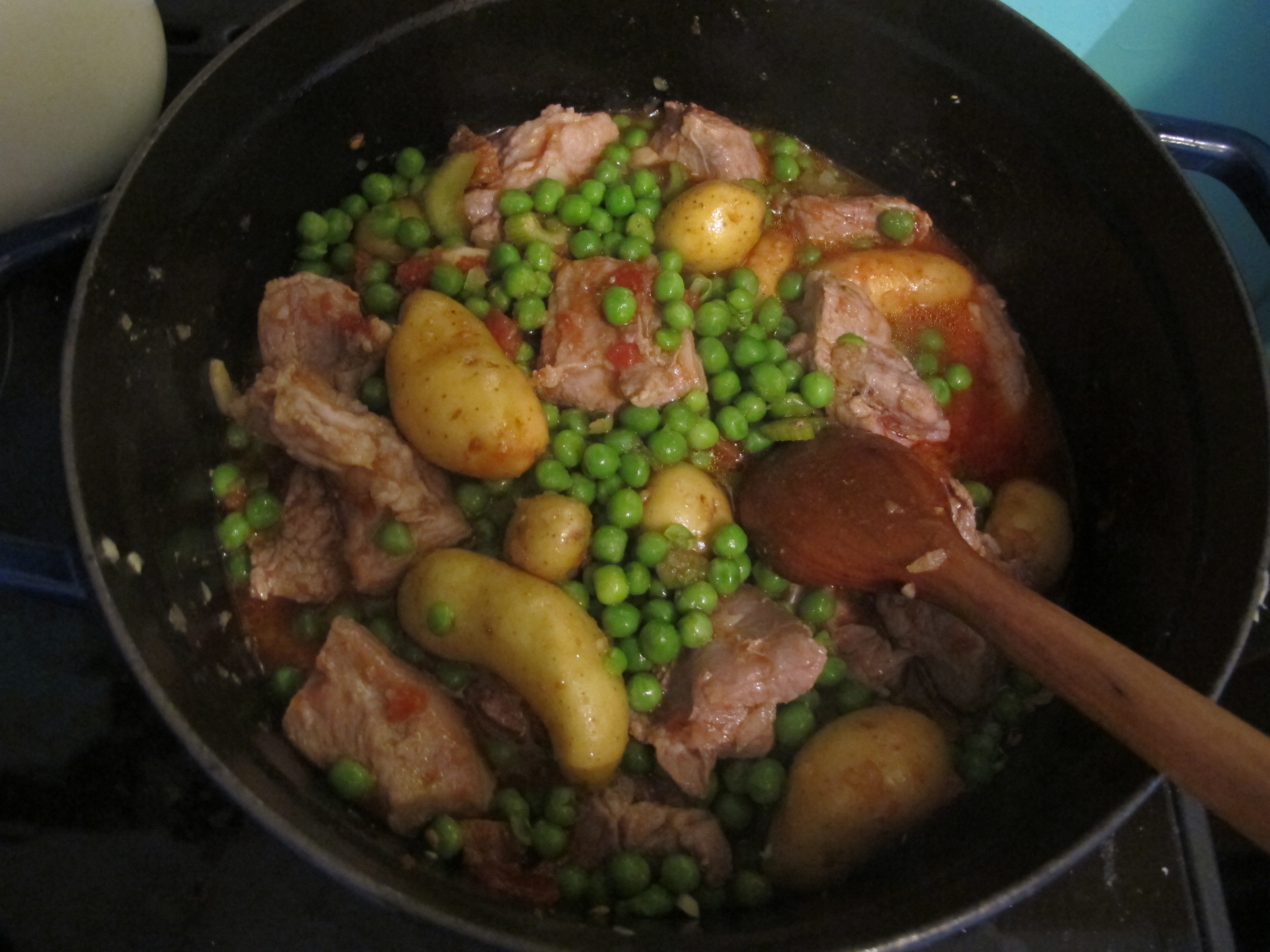 Veal Stew with Chorizo, Fingerling Potatoes and Peas
Ingredients
2 tablespoons butter, ghee or coconut-ghee blend (this is the kind I use)
800 grams veal for stew, roughly chopped into 5-cm pieces
2 medium onions, finely diced
2-3 cloves of garlic, minced
2-3 stalks of celery, finely chopped
Sea salt and pepper
100 grams chorizo, peeled and chopped into 2-cm pieces
200 grams tomatoes in their juice (or fresh depending on the season)
200 ml homemade chicken broth
500 grams fingerling potatoes, carefully washed but left whole and unpeeled
1 cup green peas (I used frozen)
Fresh parsley
Instructions
Heat the fat in a heavy-bottomed pan (I used enameled cast iron) over medium heat. Add the pieces of meat in batches so as not to crowd them, and brown for about 8-10 minutes, making sure they don't stick to the bottom. Remove them to another bowl.
Add the onions, garlic and celery, salt and pepper (go easy on the salt at this stage since the chorizo will be salty). Sauté until the onions are translucent.
Add the chorizo to the mixture, followed by the meat.
Add the tomatoes, chicken broth, the potatoes and the peas, mixing thoroughly. Cover, turn down the heat when it starts to boil and let simmer for about half an hour, checking in occasionally so that it doesn't stick to the bottom.
Remove the cover and continue stewing for about half an hour, or until the meat is cooked through and the potatoes are tender, watching closely that your liquid does not run too low.
Adjust the seasoning and serve with a sprinkling of fresh parsley.
http://theomnivorist.com/veal-stew-chorizo/