Summer ended so abruptly this year that it felt like a rude visitor rushing out without saying a proper goodbye.  It didn't help that we went on vacation quite late, meaning that by the time we got back it was already the first day of September and my kiddo was starting preschool – yikes! Plus the weather in Paris got decidedly chilly as soon as back-to-school season rolled around, like it was in a hurry to make sure we knew summer was definitively over.
Add to that my slowness in being able to get a good rest and back on my feet with an ever-growing belly and it meant that I needed the best kind of therapy: kitchen time! The empty fridge was making sad eyes at me so it was time for my slow cooker to come to the rescue.
One of the first things we did back at home was to put in a big order from La Ruche qui dit Oui! which lets us buy all kinds of fresh produce and meat from local producers. (I talk more about how we do our food shopping here). I'd been eyeing this recipe for a beef stew with a Mexican twist for a while now so I went for it, even knowing that I wouldn't be able to make it as spicy as it deserves to be since, well, gotta think of our little roommate too.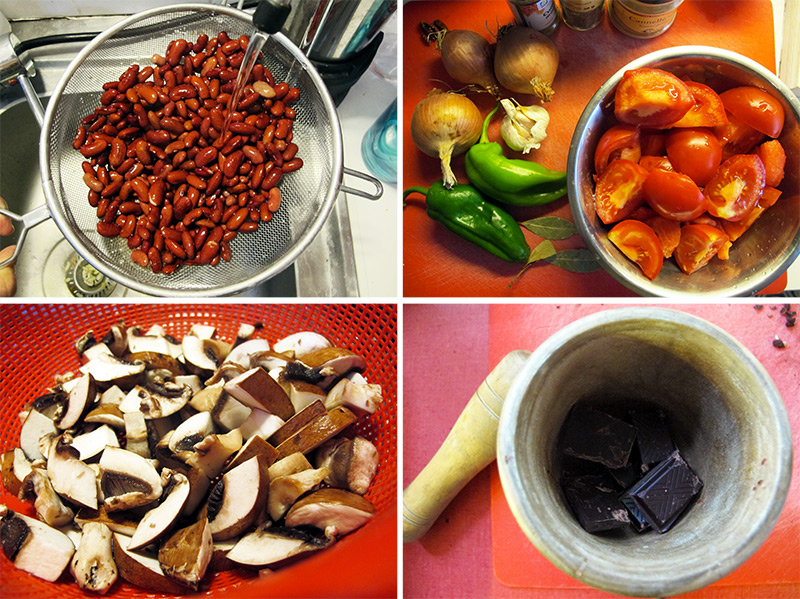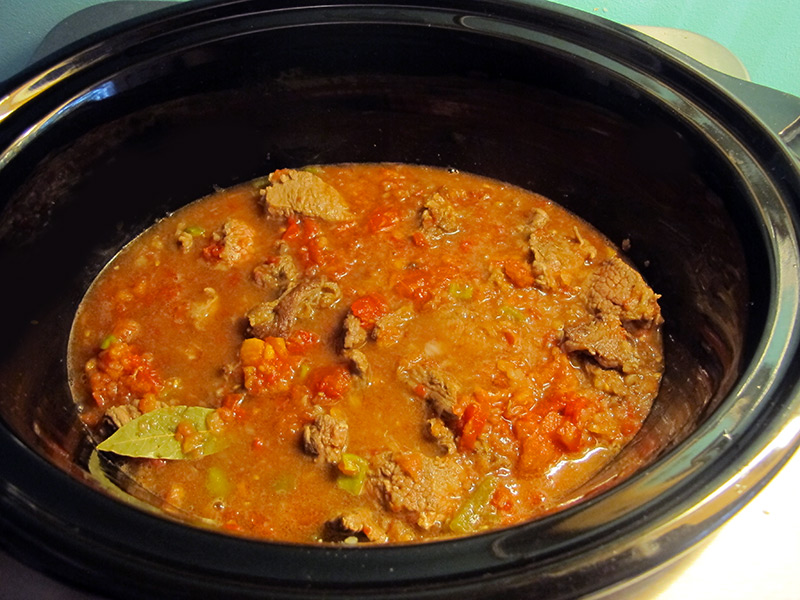 This isn't actually so different than a chili but it is made with stew meat instead of ground. As with a chili, you do have to plan ahead a little since the kidney beans need soaking and precooking but that's a mostly hands-off process. Also I prefer to sear the meat on the stove beforehand since I find that this deepens the flavor. But you could also just add it directly to the slow cooker if you're pressed for time.
Adapted from the book Petits Plats à la Mijoteuse.
Slow Cooker Mexican Beef Stew
Ingredients
1 cup red kidney beans
Lemon juice
Traditional fat like coconut oil, ghee or a mixture of the two, or a mixture of butter and olive oil
1 kg stew meat, grass-fed beef or veal, cut roughly into 2-cm chunks
1 tablespoon cumin seeds
2 medium onions, chopped finely
4-5 garlic cloves, minced
1-2 red or green peppers (could be jalapeño if you want it hot), chopped finely
800 ml crushed tomatoes
100 g button mushrooms, washed and sliced 1-cm thick
2 teaspoons powdered cumin
½ teaspoon cinnamon
1 teaspoon brown sugar
2 bay leaves
20 cl homemade beef or chicken broth
25 g dark chocolate, chopped roughly
Sea salt and fresh pepper

For the garnish:

1 ripe avocado
Sour cream or crème fraîche
1 small red onion, finely chopped
Fresh cilantro
Instructions
The day before, soak the kidney beans in warm water with a few teaspoons of lemon juice. Leave on the counter overnight or up to 24 hours.
Drain the beans thoroughly and then place them in a casserole with enough filtered water to cover them by about 2-3 cm. Turn the heat on high, turning it down when it starts to boil, bringing it down to a gentle simmer.
The beans will take their time to cook thoroughly, at least 90 minutes if not two hours. Check on them from time to time, stirring so that they don't stick to the bottom and making sure that the level of water continues to cover them. Make sure they are cooked well on the stovetop because they will not continue cooking once in the slow cooker.
Heat 2 tablespoons of the fat in a heavy-bottomed pan over medium-high heat. Start adding the pieces of meat when it becomes very hot, being careful not to crowd them too much. Brown all sides, and set aside, repeating in batches until all the meat is done.
Deglaze the bottom of the pan with a little bit of the broth or some filtered water, if necessary.
Turn the heat to medium, add 1 tablespoon of fat to the pan, then add the cumin seeds, heating them until fragrant.
Add the onions and peppers, occasionally stirring them until the onions become translucent. Add the garlic, powdered spices and sugar, mix thoroughly and leave on the heat for another few minutes.
Now it's time to start assembling the ingredients in the slow cooker.
Place the onion mixture in the bowl of the slow cooker, followed by the meat, tomatoes, the broth, chocolate, kidney beans, mushrooms and the bay leaves.
Give the whole thing a good stir, making sure the pieces of meat are submerged under the liquid. Cook on low for 9 hours.
When you're ready to serve, add a dollop of cream, chunks of avocado, a sprinkling of red onion and fresh cilantro on the plate. The whole thing is perfect with a side of rice pilav.
Bon appétit!
http://theomnivorist.com/slow-cooker-mexican-beef-stew/