Last week we had that rare event in Paris, a heat wave! After months of relatively cool weather, which is much more our speed, we have been hit with roaring heat and for once I've been happy to be inside an (air-conditioned) office all day long!
Thankfully the weather wasn't too humid so the heat not too sticky, I still didn't feel like doing much of anything, least of all spend time cooking. This summer slump meant that we've relied lots on leftovers and our quick go-to meals in the last weeks. But since I can never stay away from the kitchen for too long, last weekend I was bent on cooking up the spicy merguez that came with my cherished lamb delivery a few weeks back.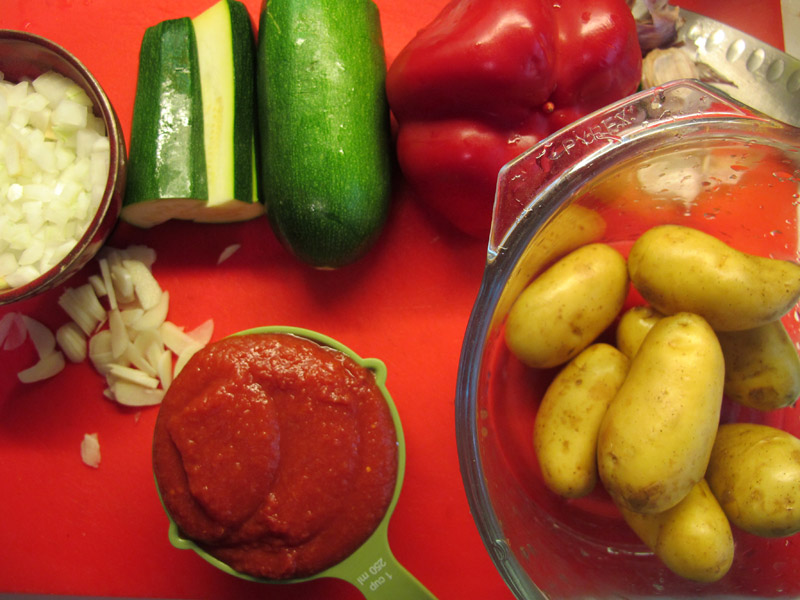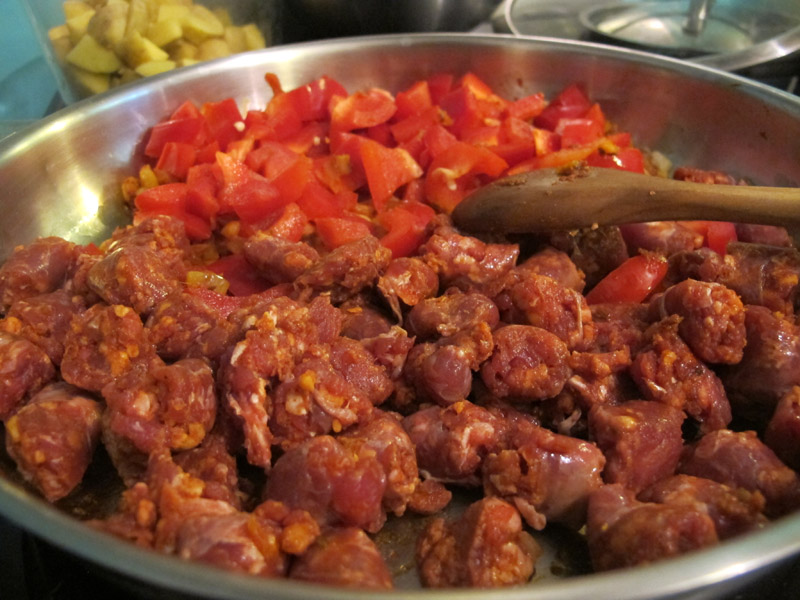 I had the idea of making this shakshuka-like dish made heartier with the addition of potatoes but also summer veggies like zucchini and peppers. The kind of thing that can freeze easily and make a meal on its own in a pinch, especially with a baked egg on top. This is the kind of hard-working soldier of a dish that makes a delicious brunch or lunch or dinner, and is sure to please the toddler too…
While this meant that I had to spend a few sweaty hours in the kitchen next to a hot stove, I have to say it was worth every second!
Merguez Potato Hash with Baked Eggs
Ingredients
2 tbsp coconut ghee
1 tbsp cumin seeds
1 medium onion, finely chopped
1 red or orange pepper, diced
1 tbsp cumin powder
1 teaspoon turmeric
1 tbsp tomato paste
2-3 cloves of garlic, sliced thinly
500 grams spicy lamb merguez, roughly sliced
1 cup tomatoes (I use tomatoes from a jar unless they're in full season)
1/2 cup chicken broth
1 medium zucchini, unpeeled, cut into 2-cm cubes
300 grams small potatoes, boiled or steamed and cut into 2-cm cubes
1 pasture-raised egg per serving
1/2 bunch parsley or cilantro, to serve
Crumbled feta, to serve (optional)
Instructions
Heat the coconut ghee in a 30-cm-wide heavy-bottomed pan on medium-high heat. Add the cumin seeds and once they start becoming fragrant, add the onions and peppers. Add the powdered cumin and turmeric, followed by the tomato paste and garlic. Go easy on the salt at this point since the merguez will add salt too. Continue until the onions become translucent, about five minutes.
Add the merguez in batches, making sure to brown them on all sides (about five minutes per batch). Remove them to another bowl since there will not be enough room in your pan.
Lower the heat to medium. Add the tomatoes, chicken broth, zucchini and the potatoes. Give it a good stir and leave uncovered for about 20-30 minutes, making sure the mixture does not stick to the bottom.
At this point, separate out what you will eat right now from the leftovers.
Pre-heat the oven to 200°C
You can make indentations in the hash right in your pan to place your eggs or use individual ramekins.
Place the merguez hash with the eggs into the oven and cook about 6-8 minutes or until the eggs whites are just set.
Garnish with the parsley/cilantro and feta and serve warm, accompanied by a salad and a cool glass of rosé.
http://theomnivorist.com/merguez-potato-hash/