I often get asked about how to find grass-fed meat here in France, usually by expats who have lost their nutritional bearings when moving countries. There's really no easy answer since organic does not at all guarantee that your meat will be exclusively pasture-raised; organic feed (comprised mainly of grains) is authorized and even prized by some producers as a badge of quality. Yeah, I know.
So far our best bet has been through alternative (and sometimes somewhat informal) direct-to-consumer schemes where it's at least possible to get answers about the mode of production straight from the producer.
So far we have been able to get pork and veal this way — through our AMAP network — and now finally my favorite, lamb.
The ultimate melt-in-your-mouth tender delicious meat, it is no wonder lamb is associated with festive times in France. But one thing is has going against itself (maybe owing to its virtues) is that it costs and arm & a leg — kilogram of a cut like shoulder of lamb can go for up to €35 here! So I was delighted when I recently got wind of a bulk group order and decided it was time to make room in the freezer.
The order hinged upon securing a minimum of 15 animals for it to be worth the producer's while so I was quite relieved when the confirmation came through. Having direct access to the producer also meant that I could ask him for bones to make broth, and he dutifully obliged with a 2,5-kg bag of them!
I did well to bring along that very Parisian of accessories, my trusty shopping caddy, since between our order, that of our neighbors and the bag o'bones, I had close to 15 kg of meat to chug back home in the metro!
And boy was it worth it.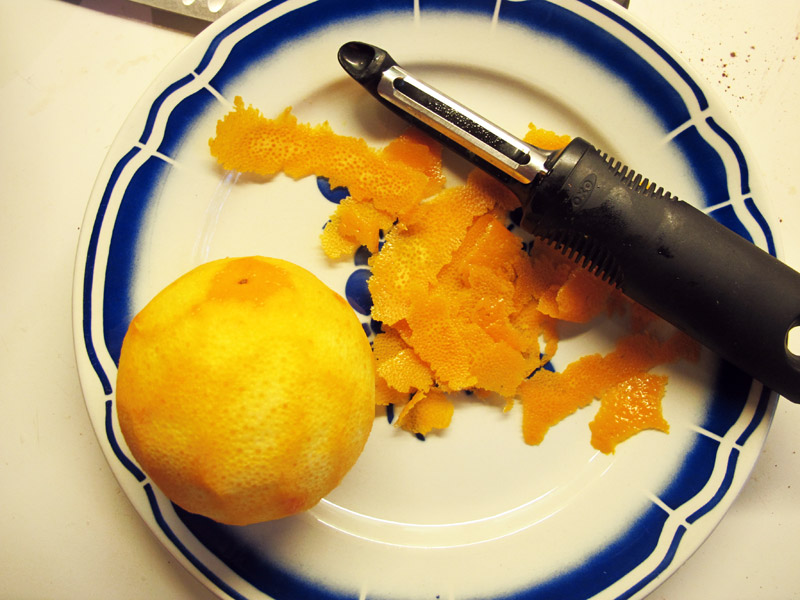 As luck would have it, I came upon this delicious-sounding recipe just days before picking up my order and decided it was the first thing I was going to make. As is often the case I made a few adjustments, which included adapting it for my favorite kitchen tool: the slow cooker! But not before using it to make lamb broth of course (which was also a first).
A tajine with its long cooking time that gives such succulent results is a perfect candidate for the slow cooker. But while tougher meats need to be cooked for long hours, lamb is so tender that this actually took about half the time that it would normally take for beef or pork. But if you don't have a slow cooker, you can easily make this in a cast-iron pot on the stovetop, reducing the cooking time to about 2 hours, checking for doneness along the way.
The house was wafting with the sweet smells of orange and spices after an afternoon of cooking. This one is definitely going on the replay list.
Ingredients
2 tablespoons cinnamon
1 tablespoon powdered ginger
1 tablespoon turmeric
1 kg lamb stew meat, cut roughly into 5-cm pieces
2 tablespoons traditional fat like coconut oil, coconut ghee, ghee or butter
1 tablespoon cumin seeds
1 medium onion, finely chopped
2-3 cloves of garlic, finely minced
1 tablespoon fresh ginger, finely minced
1 medium sweet potato, peeled and cut into 2-cm cubes
1 cup homemade lamb broth (chicken works also)
1/2 cup raisins
1/2 cup prunes, placed in hot water or tea for about ten minutes
Zest (using a vegetable peeler) and juice of 1/2 orange (optional)
Toasted almond slivers, to serve
Instructions
Rub the meat thoroughly with the mixture of dry spices. You can leave the meat in the fridge for a few hours or up to overnight.
Heat 1 tbsp of the fat in a heavy-bottomed pot like cast-iron. Once it heats up, add the pieces of meat and brown them on each side, being careful not to crowd them too much. Do this step in batches if necessary. Set aside.
Add the rest of the fat to the pot, followed by the cumin seeds and heat until fragrant. Add the onions, garlic and ginger. Stir regularly until the onions are translucent.
Place the onion mixture at the bottom of your slow cooker. Layer the sweet potatoes on top, followed by the lamb pieces and the broth.
Cover and turn the slow cooker on low for 5 hours.
During the last hour, stir in the raisins, prunes, orange juice and peel, and leave uncovered until the end of cooking.
Serve over rice, with a sprinkling of toasted almond slivers and orange peel.
http://theomnivorist.com/lamb-tajine/