I say it's about time to get practical!
I periodically get asked where and how we do our groceries so figured it was time to put it all in one place. This list is by no means exhaustive but should provide a good guide to what we do in our family. Note that we live in Paris, France, so these are local or at least country-specific for the most part, although there are some tips for those visiting the City of Lights as well.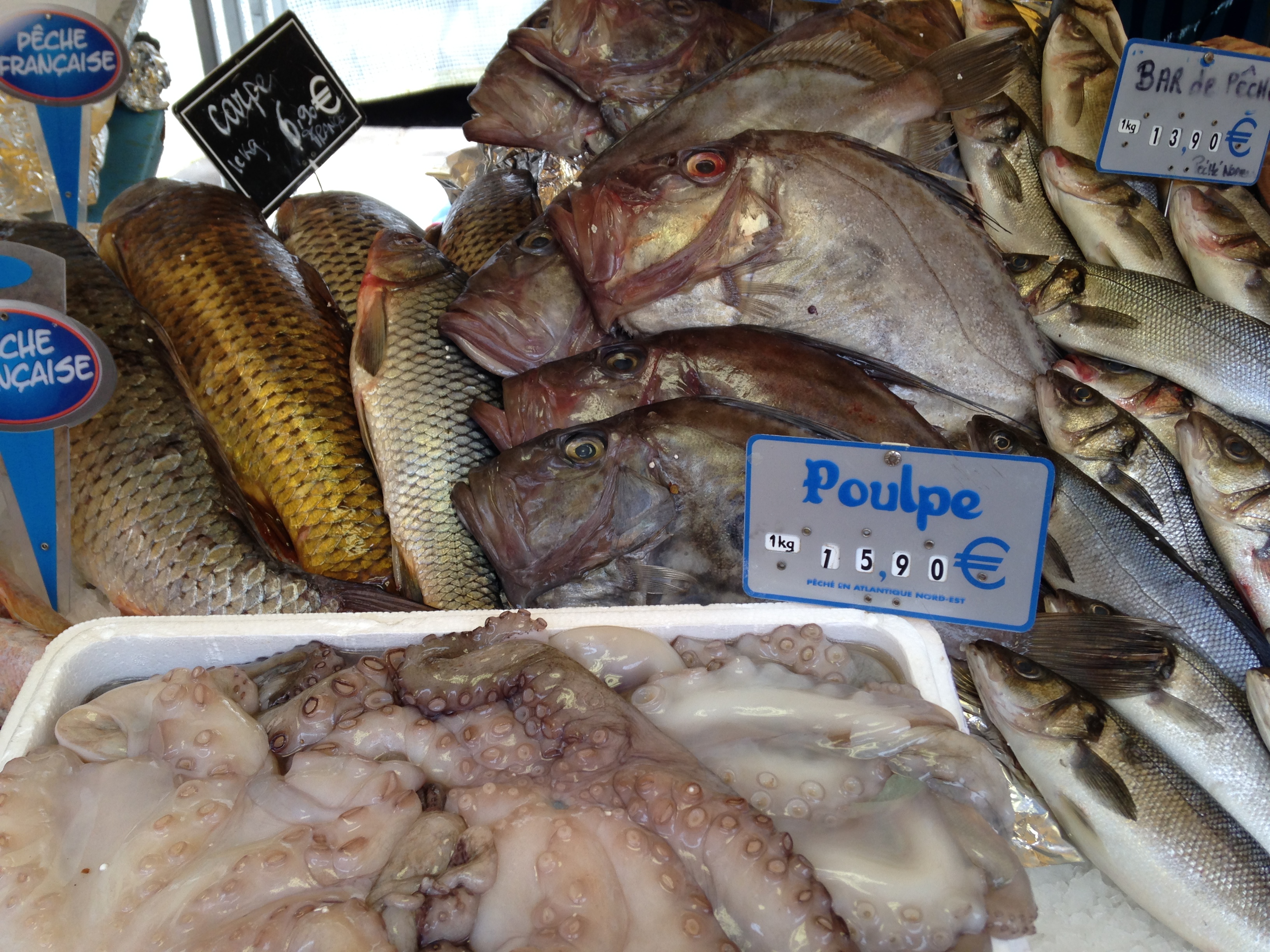 Top of the list is of course the street market (or the farmers market, although they are not usually the actual producers) since it cannot be beat for in-season produce, fresh fish and great selection of cheeses. It's good if you can spot a stall or two of local producers since this unfortunately is not the case for all of them. Ours is twice a week, Wednesday and Saturday mornings. Check here for a guide of where markets are by neighborhood even if you're passing through for just a few days, and think about visiting the Aligre Market if you're around — it is open every day except Monday.
Another good option is signing up for a CSA (community-supported agriculture) which is called AMAP (Association pour le maintien d'une agriculture paysanne) in France. You can find one close to you on the Réseau AMAP Ile-de-France. The idea is that you pay for an entire season ahead of time (or in installments) and pick up a weekly or biweekly basket with fresh produce. Some AMAPs allow for a half basket every week. I know some don't like the restrictive aspect of it but personally I've always liked it since I'm one who doesn't tire of beets in the winter, like ever. I also like the surprise element of not knowing the contents ahead of time and sometimes be forced to think of new recipes because of a vegetable I wouldn't have thought to buy.
I also like ours because it's in our residence so provides a chance to socialize with our neighbors. While this level of convenience is not the case for all of them out there, it will still allow you to meet people in the neighborhood just by virtue of being local to you. So that added community aspect alone can be really valuable, plus the fact that you are supporting a local organic farmer. We also get farm-fresh eggs through ours (our neighbors no longer balk at our 30 eggs/week habit since they're used to it… How to tell them that even that's often not enough and we end up stocking up before the week's out?!).
We also really like La Ruche qui dit oui, being the locavores that we are. This is basically a farm-to-table scheme that puts consumers in touch with local farmers/producers. It's great for fresh produce, meat, artisanal cheeses, beverages, and much more. Unlike the commitment that an AMAP entails, here you choose and pay for your products via their website when you want, and pick up your order at a distribution point once a week. They have locations all over the place by now so do check for one near you (they are also active in Belgium). Here's a nice video from their site:
There is one other short distribution channel like this that we like but it's extremely local: Kelbongoo! Currently they only distribute on Saturdays at their storefront in the 20ème arrondissement.
While we buy most of our meat at La Ruche, of course having a trusty neighborhood butcher is essential. Ours is on rue des Meaux in the 19ème and while not right near our place, well worth the trek. You just can't get discouraged by the lines out the door on a Saturday morning and the fact that even on their busiest day of the week they will shut for lunchtime. Such is the reality of grocery shopping at small businesses in France…
Organic stores – I am not loyal to any one chain and shop regularly at Bio c Bon, Naturalia, La Vie Claire, Les Nouveaux Robinson and our small local organic shop in Belleville depending on convenience and sometimes particular products.
Picard is a frozen-food chain and while most French think it's the best thing since sliced bread, you may be surprised to find it on my list. Well, as you can imagine, I am not big on TV dinners or nibbly bits full of refined grains but I do find Picard practical for certain products: frozen organic fruit like berries or mangoes for smoothies, frozen organic veggies (peas, spinach, mushrooms…) and, my favorite part, frozen fish like sardines and mackerel as well as cod, rouget barbet, wild salmon… We fall back on these fish for easy dinners almost every week.
This should provide a good overview of where we buy our food. Keep your eyes peeled for an upcoming post on more about what we buy! And if you have any questions or comments, do let me know below.