If you do an informal survey and ask people (especially the health-conscious) what they think the most nutrient-dense foods for humans on the planet is, you'll probably get something along the lines of kale, blueberries or beets. They are absolutely right that those things are very good for you, and delicious, and an indispensable part of any healthful diet but how to tell them that, um, that ain't half the story?
Turns out organ meats, and especially liver, are some of the most nutritious foods out there. On every nutrient count, liver blows the competition right out of the water (see Chris Kresser's article all about it here). Please do make sure, however, that they come from pasture-raised (or at least organic) animals.
Chicken livers are a favorite in our home because they are incredibly simple to prepare, milder than other types of liver and economic to boot (I pay about €12/kg). This recipe is simple, nutritious and very quick to prepare on a week night. You can also purée it (liver pâté anyone?), as it's delicious on some crusty sourdough bread or feed it to baby who, if he's anything like mine, will down it in no time.
300 g chicken livers (pasture-raised/organic), chopped into bite-sized pieces
1 yellow onion, finely sliced
1 T cumin seeds
2 red chilis (optional – omit for the baby)
1 T garam masala*
1 T turmeric
Chicken broth (should be homemade; otherwise filtered water)
Ghee
Sea salt and pepper, to taste
Parsley or cilantro to garnish (optional)
Heat the ghee in a heavy pan on medium heat and add the cumin seeds, stirring regularly to make sure they don't burn. Add the chilis and the onions and cook until translucent, about 10 minutes.
Add the powdered spices and stir to coat the onions evenly. Add the chicken livers, stirring regularly. Deglaze with the broth or the water. If you like them rosé, about 7-8 minutes should suffice. If they're for baby, give them a couple of more minutes to cook through.
Take off the heat and serve with a side of rice pilav and salad.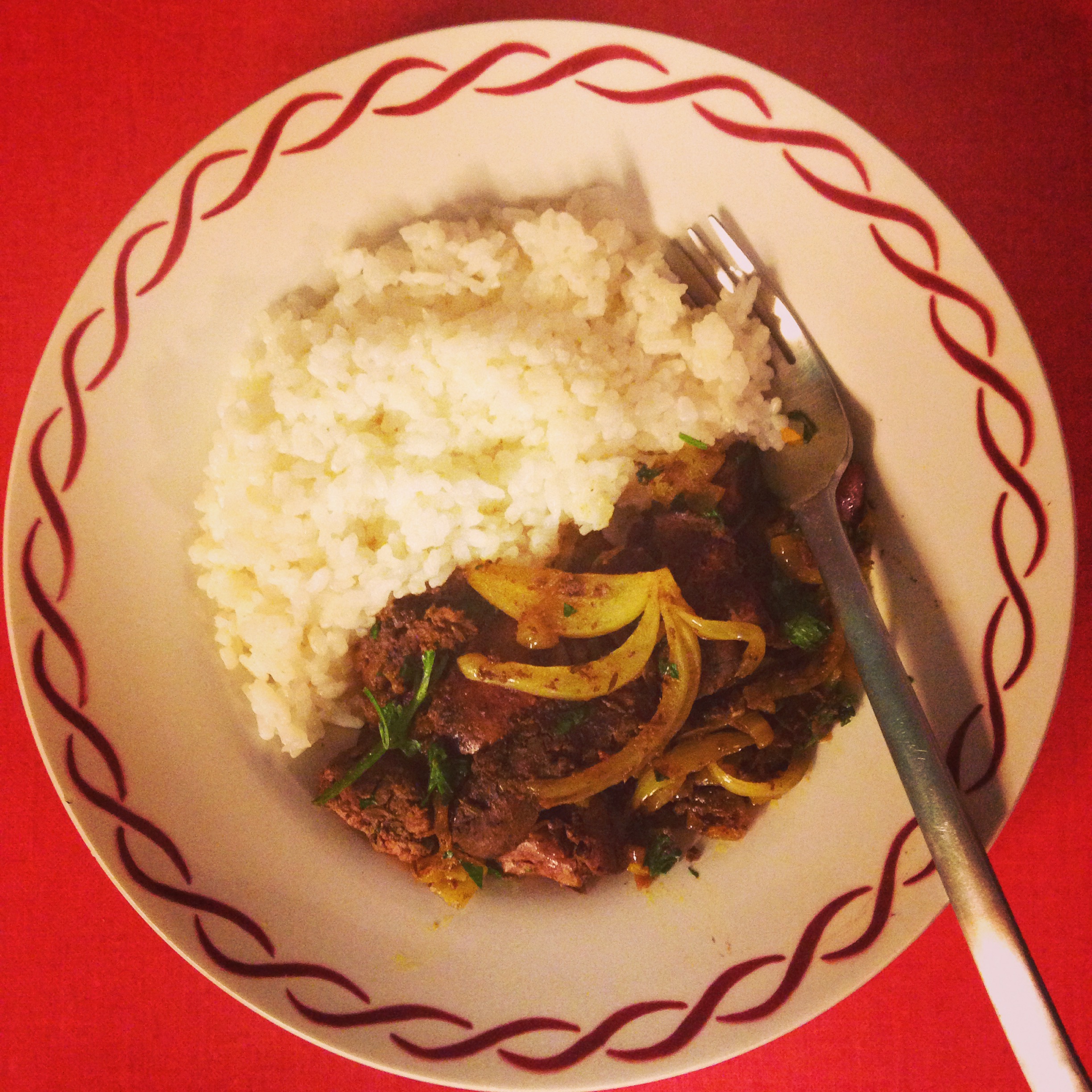 If you are making it for baby, you may choose to purée it at this point although they can also grab the chunks with their fingers — it really depends on your tolerance for the clean-up afterwards!
(*) You can find garam masala in most Indian or ethnic food shops.